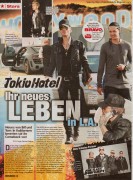 Scan by TokioHotel-Info
Translation
Tokio Hotel – Their new life!
News from Bill and Tom: They're preparing their comeback in California!
One of the two wears a leather jacket, a basecap and sunglasses, the other one sports cornrows and baggy clothes. Are two members of an US Metal-Band strolling down the street in Los Angeles/California? No – Those two guys are Bill and Tom Kaulitz (both 22) from Tokio Hotel!
It's gotten quiet around the mega band: Their last studio album "Humanoid" was released in October 2009. But the time for waiting will be over soon! The Kaulitz-Twins moved to L.A. to work on new songs for their album and as BRAVO learned, eight tracks have already been recorded. Gustav and Georg will join Bill and Tom soon. Those two are currently living in Madgeburg, but they keep in touch with the twins via Skype.
In the meantime Bill is getting inspired by the californian Rock-Scene. He's already dreaming about rocking the big stages with Tokio Hotel at some of the biggest music festivals the US has to offer. "I attented 'Coachella' last year – I had the time of my life", he gushes.
But he'll definitely show a musical sign of life in May, because the song "If I Die Tomorrow", a track he recorded with US Electro-Band Far East Movement, will then be realeased. "Bills voice is unique, we really wanted to have him on this track", the four Far East Movement band members revealed. BRAVO will keep you up to date on anything Tokio Hotel related…
Pictures- Tom cruises through Hollywood with his Audi R8 GT (193.000 €)- Bill without a hat: His hair is blonde and his outfit rocks- Bill and Tom walking through L.A., sporting a great style- You can see Bills tatooed hand while he talks with someone on his phone- Bills collab partners: Far East Movement's song "Like A G6" was a hit in L.A.
Translation by Icey @ LoveTH-Music.com