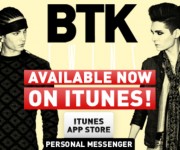 BTK App – Out Now on iTunes!!!
Seriously, our friends from Apple got totally hooked to the new BTK app. Instead of pushing it LIVE on iTunes they were busy checking out the latest pics, videos, post and all the fun stuff Bill & I are sharing via our new app. Well, finally they put their iPhone aside, pressed the magic button and now all Aliens world wide can join our world with their Apple devices ;)
>
Head over to iTunes now to download the BTK app!!!